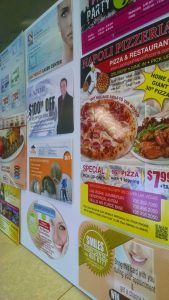 Before getting into the subject that how useful postcards can be for your business clarifying the difference between postcard and flyer is necessary.
These days any printed material that contains some information about your business and services you offer is called flyer. That can be a tri-fold brochure, a flat flyer which sometimes called brochure again and postcard. In printing business usually postcard is the product that is printed on cover stock no matter you are going to mail it out using post office or any other mailing services or if you need to hand out in an event or for an event. For example 14pt or 16pt cover stock with different finishing.
Quick question: how would you let your neighbors know that you are running an offer or a special for limited time? Let's say New Year special, or spring special etc? Think about it.
Often we see that people list their services on the back of their business card which is a great idea but not when you have a lot of services to offer. Ok, wait, I know you may think it's even ok to have coupon on your business cards, but, I mean come on, that's so unprofessional. Here is when the idea of using postcard pops up. They are at least double of the size, high quality and attractive in the same time. You can include all your company information, your personal information, list the services and offer your specials, coupons or discounts.
By having a postcard in hand you can walk into your neighbor's shop, say greeting and ask their attention to the postcard, hand out and say "Hasta la vist". The postcard will tell everything that you don't have the time for. Don't worry if your neighbor is closed at your visit, you can just slide your postcard under the door or mailing slit and as far as you have a nice message on your postcard it won't be consider as solicitation.
You can also choose to mail your postcard, of course there are different ways and options to do that but I would choose to talk about that part maybe some other time.
Oh and I almost forgot, the good thing about postcards is that we offer variety of sizes. As small as 2×4 or as big as 9×12